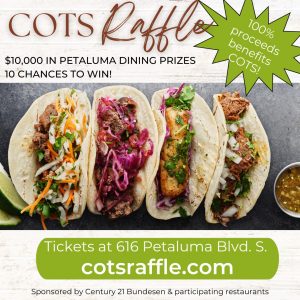 Since 2018, Century 21 Bundesen/Epic has been sponsoring the COTS Raffle, an incredible fundraiser that has raised more than $115,000 for COTS during that span. For those of you not familiar with COTS - The Committee On The Shelterless, they are one of the primary providers of homeless support services and housing around Sonoma County. They run the Mary Isaak Center in Petaluma, where they provide shelter, food, medical services, job services, etc. for those in our community who are most in need, and they also provide other housing-related services around Sonoma County.
The raffle ticket sales typically run between August and October, with the annual drawing being held mid-October. In 2022 we raised over $36,000! Tickets are $20 each, and every penny we bring in gets donated to COTS. This year there were $10,000 in Petaluma restaurant gift certificates that were grouped into 10 fantastic prize packages.
Keep an eye on this page for info about next year's raffle!